about MAMAK
The Food Culture of MAMAK
The word 'Mamak' is from the Tamil term for maternal uncle. A mamak stall, is a food establishment which serves mamak cuisine.
The Core Values of MAMAK
Malaysian cuisine
A very fascinating food cultures and influenced by various cultures from the Malay, Indian, Chinese, Indo and Borneo. the company aims to spread MAMAK food culture to every corner of the world with pride, offering a warm and cheerful haven where you can relax, unwind and have a taste of the eclectic and exotic Malaysian cusines. MAMAK has brought the name, the dishes, flavours and passion for great Malaysian food.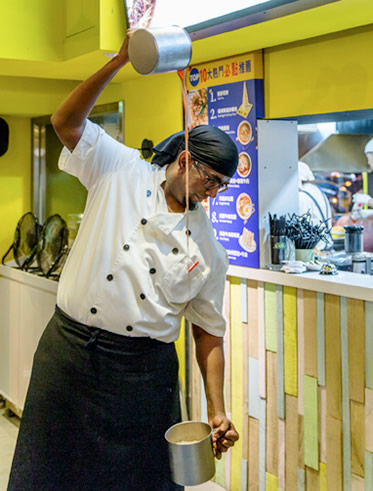 An authentic food experience without the need to travel to Malaysia.
We take our food extremely seriously. The food selection reflects Malaysia's cultural and ethnic mix. Malaysian street food can mean many things to many people. We only use fresh highest quality ingredients, and every recipe we use comes directly from the recipes being passed down from generation to generation, i.e. Satay, Char Koay Teow, Curry Laksa, Hainanese Chicken Rice, Prawn Mee and etc; Chendol and creative drinks.
Exciting interpretation on Malaysian cuisine
The vision of MAMAK brand is to spread its eclectic and exotic Malaysian cusines, its style and brand personality to the customers, resonate with the customers is the key to become a globally recognized brand. A care for fresh ingredients, and a passion for flavours, focus to excite the customers taste buds with quality, eventually expresses the brand's personality with no boundaries.
Tea show to share delicious and pleasant surprises with you
The bright and distinctive atmosphere is like being in a foreign country. The much-anticipated Anand chef tea show will appear in various stores from time to time, bringing everyone a pleasant dining atmosphere.
OUR CORE VALUES
The Food Culture of MAMAK
With the finest carefully selected fresh ingredients and Anand's cooking method, diners are spoilt for choices. We promise to bring the diners the experience of the full flavor of this incredible country and trigger your new taste sensations. MAMAK's Code of Conduct reflects our firm's commitment to quality and integrity. Pragmatic approach is the attitude we bring to our work. The company strive to grow together to meet the expectations of customers and employees and promise a rewarding career path for the employees.